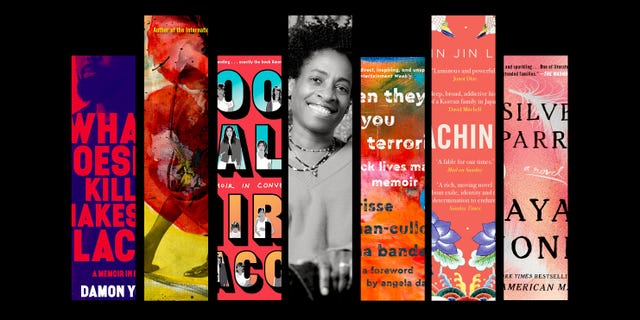 Illustration by Mia Feitel
Welcome to Shelf Life, ELLE.com's new books column, in which authors share their most memorable reads. Whether you're on the hunt for a book to console you, move you profoundly, or make you laugh, consider a recommendation from the writers in our series, who, like you (since you're here), love books. Perhaps one of their favorite titles will become one of yours, too.
Our second author is Jacqueline Woodson, newly minted MacArthur fellowship recipient—i.e., she's a MacArthur Genius—whose adult novel, Red at the Bone (Riverhead), was recently released as a paperback. She has also written more than 30 picture and middle grade/young adult books, among them the National Book Award-winning memoir Brown Girl Dreaming.
The Brooklyn-based mother of two has three dogs (Shadow, Toffee, and Nova) and a cat (Fred); likes writing on the Cape, among other places; can jump double-dutch; knows a decent amount of American Sign Language; and counts Brown Estate, the first black-owned vineyard in Napa Valley, as a favorite. On Zoom this summer, elementary students thought she said she had a Tik Tok when she said she had a Ted Talk ("What Reading Slowly Taught Me About Writing") and "for about six seconds, I was a VERY interesting author."
Woodson established the Baldwin for the Arts Residences for artists of color, named for James Baldwin, in Brewster, NY and recently finished the screenplay for Red at the Bone for Lena Waithe's Hillman Grad production company, and the pilot to a TV series based on her book, Behind You.
The book that…
…helped me through a breakup:
Silver Sparrow by Tayari Jones
…kept me up way too late:
The Warmth of Other Suns by Isabel Wilkerson
…made me cry:
Brother, I'm Dying by Edwidge Danticat
…I recommend over and over again:
The Gods of Tango by Carolina De Robertis
…I keep trying to finish (I will, I swear):
The Bible. But I'm scared to get to the book of Revelations.
…currently sits on my nightstand:
Libertie by Kaitlyn Greenidge (the galley version, on-sale March 2021)
…changed my mind about something:
The Life-Changing Magic of Tidying Up by Marie Kondo
…I'd pass on to my kid:
…I'd gift to a new graduate:
When They Call You A Terrorist by Patrisse Khan-Cullors
…made me laugh out loud:
…I'd like turned into a Netflix show:
State of Wonder by Ann Patchett
…I wish I'd written:
…I first bought:
If Beale Street Could Talk by James Baldwin
…I last bought:
The City We Became by N.K. Jemisin
…made me want to be a writer:
The Little Match Girl by Hans Christian Andersen
…should be on every college syllabus:
…I consider literary comfort food:
A Tree Grows in Brooklyn by Betty Smith
…everyone should read because…it's brilliant:
When My Brother Was an Aztec by Natalie Diaz
…fills me with hope:
Reading in general does this for me.
…surprised me…with a reveal I hadn't expected:
The Water Dancer by Ta-Nehisi Coates
…has the best title:
What Doesn't Kill You Makes You Blacker by Damon Young
…has the best opening line:
The Member of the Wedding by Carson McCullers
"It happened that green and crazy summer when Frankie was twelve years old."
This content is created and maintained by a third party, and imported onto this page to help users provide their email addresses. You may be able to find more information about this and similar content at piano.io