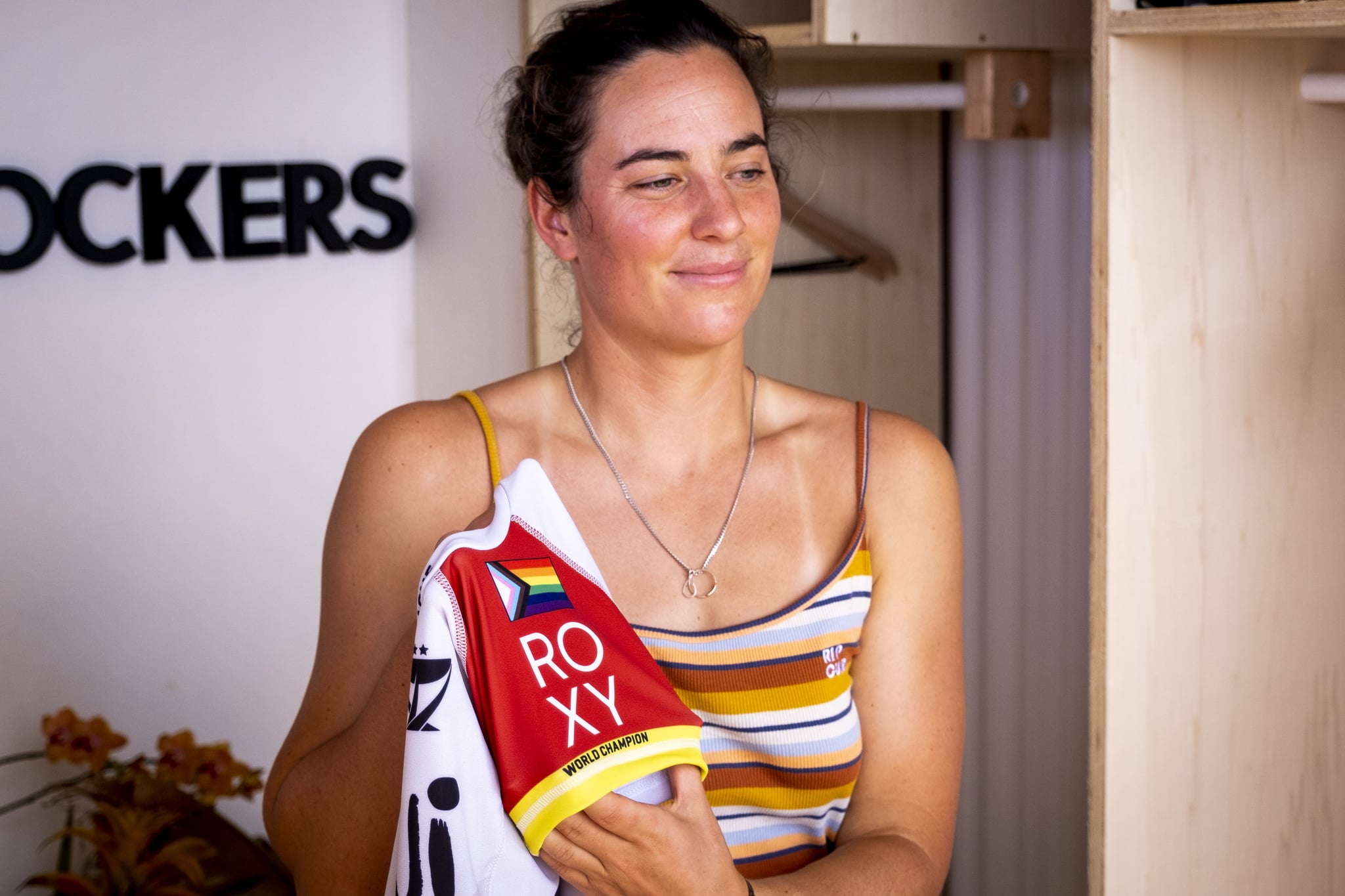 When Tyler Wright scored the first perfect 10 of the 2021 World Surf League Championship Tour, it seemed to signal the end of a few things. Her grueling journey back from a debilitating bout of post-viral syndrome, for one thing; the yearlong, pandemic-induced hiatus of professional surf competitions for another. But as Wright carved through one of the few barrels of the day, riding the wave almost onto the beach at Maui's Honolua Bay, it felt more like a beginning. Not only because it was the first Championship Tour event or the first 10 of the 2021 season, but because Wright did it with the Progress Pride flag on her shoulder, a groundbreaking first for pro surfing.
"It comes from a place where I'm embracing exactly who I am," Wright told POPSUGAR before the competition. "I've been really inspired by the women and the men that have stood up for their values, the women that have been part of the LGBTQ+ community and have spoken. We stand for equality and inclusivity. We are exactly who we are and we are proud of that."
When a surfer competes in a WSL event, they represent their country on both shoulders of their jersey. For Wright, at the Maui Pro, one arm bore the Australian flag as usual; the other, the Progress Pride flag. She's the first surfer to wear the Progress Pride flag on her jersey during WSL competition, a sign that change is coming to a sport that, historically, has not been known for its acceptance of LGBTQ+ people.
"We are exactly who we are and we are proud of that."
"Creating an inclusive space for everyone is really important," said Wright, who identifies as bisexual. "I'm not exempt, and neither is surfing, and neither is society. I feel like we all have sexism, racism, homophobia within us. And this is our way of acknowledging that and also creating a more safe, equal, and inclusive space for everyone to be their true self." Then she put it more simply. "Surfing is for everyone."
Back in September, Wright began using her platform to support another social cause. During her opening heat at the Tweed Coast Pro in Australia, Wright took a knee and propped up her surfboard to show "Black Lives Matter" emblazoned on the bottom. She knelt for 439 seconds, "one second for every First Nations person in Australia who has lost their life in police custody since 1991," she later explained on Instagram.
For Wright, the decision — which, predictably, was met with some backlash on social media — came down to human rights. "I stand for equality and inclusion. They're my values," Wright said. The conversation around racial justice and equality is one that needs to happen everywhere, she added, including in the surfing community and on her own platform. It was also about recognizing her privilege in choosing to make this statement, when "many people don't have the choice," she said. "They face racial injustice every day."
Amplifying LGBTQ+ rights and racial justice across her platforms is the product of a few monumental events in Wright's life over the past few years. One of those was her illness, a crippling case of post-viral syndrome brought on by a bout of influenza A she contracted while training in South Africa. That was in July 2018; she wouldn't compete again until December 2019. The two-time world champion struggled with chronic fatigue that left her barely able to move. "It stripped me of everything that I ever knew, I ever felt about myself," Wright said. "Coming back now, I have a different perspective of my career and my position. This how I want to show up."
Wright's goal is to continue these conversations in and out of the water and to encourage the generations after her to be their authentic selves. "I've taken inspiration from a lot of great women that came before me," she said. "And I'm really looking at what sort of athlete I want to become."
Image Source: World Surf League